Between the launch of our brand new trailer, the Steam Game Festival kicking off, and our free RoboCo demo marking the first time our game has been playable by all, it's safe to say that this week will go down as one of the biggest in RoboCo history – and we're just getting started! ✨
While many of our friends and followers are likely quite busy playing RoboCo at the moment (we can hardly blame you!), we wanted to take a moment to highlight our upcoming dev livestream, which kicks off Saturday, June 20th @ 12-1PM EST | 4-5PM GMT.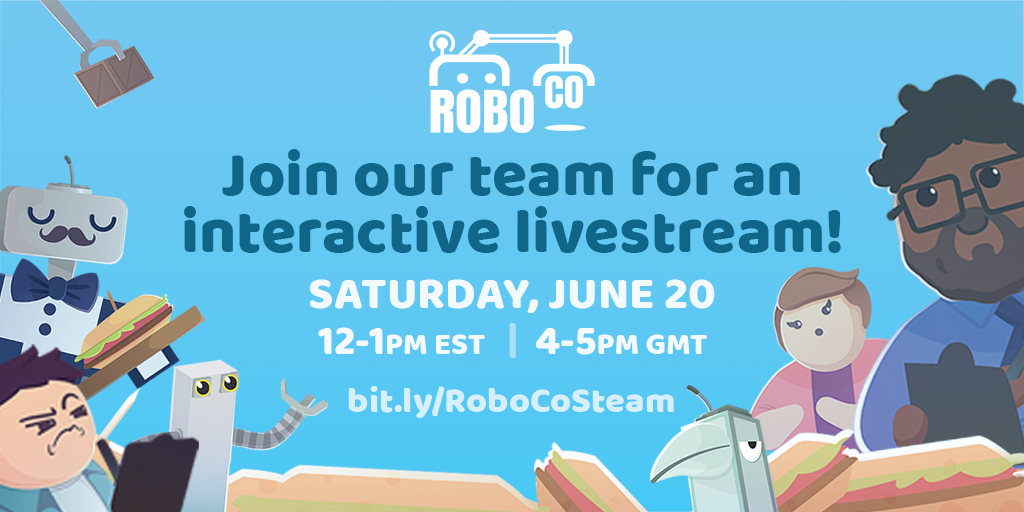 Filamentarians and RoboCo devs Luke, Joe, Jonathan, and new teammates Alan and Carter will be LIVE on our Steam page + twitch.tv/RoboCoGame for a full hour of nonstop RoboCo! Joe will be playing in Sandbox mode showing off some of our latest work including our upgraded physics engine, new parts like pistons, secrets, and more. Folks can tune in live and participate in the chat by asking questions – though we're also open to suggestions ahead of time, which you can do so by heading over to the #Livestream-Suggestions channel in our Discord!
We hope you all have enjoyed your experience with the RoboCo Steam Game Festival demo so far, and we can't wait for you to join us this coming weekend for our dev livestream! In the meantime, we invite you to help support our team by joining our Discord community, following us on Facebook, Twitter and our dev blog, and wishlisting RoboCo on Steam! ❤️