It's finally here – the Steam Game Festival has arrived, which means our RoboCo demo is now LIVE!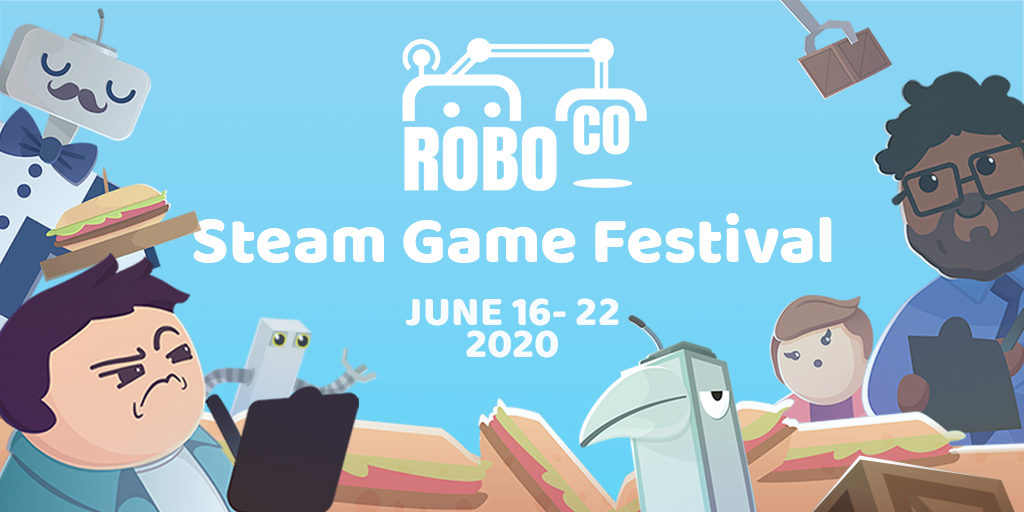 For the first time ever, RoboCo is playable by just about anyone on planet Earth (with a Steam account, of course). This free, limited-time demo includes access to one challenge level ("Deliver a sandwich"), our expansive warehouse sandbox environment, as well as access to our full library of robot parts and cosmetics. Don't wait to play – our RoboCo Steam Game Festival demo is playable only throughout the duration of the festival which wraps up Monday, June 22nd.
But that's not all – as part of the Steam Game Festival…festivities, we've cooked up a few bonus opportunities to engage with the game, our community, and our dev team. Here's a look at what's coming this week:
Ask us anything – the RoboCo dev team will be hosting a Q&A session in the RoboCo Discord on WED 6/17 @ 11:00AM EST // 3:00PM GMT. Join us on Wednesday 6/17 @ 11AM EST // 3:00PM GMT for a two-hour window in which you can ask us any RoboCo questions your hearts desire! And even if you're not able to join us live, we still invite you to submit questions – just hop on over to the #Dev-AMA channel in our Discord anytime beforehand, post your question, and we'll do our best to answer it! 💭
Join us for a RoboCo livestream on SAT 6/20 @ 12:00PM EST // 4:00PM GMT! Want to watch the RoboCo dev team PLAY RoboCo!? Then Saturday 6/20 must be your lucky day! Luke, Joe, Jon, and new teammates Alan and Carter will be LIVE on our Steam page + twitch.tv/RoboCoGame for a full hour of nonstop RoboCo! Joe will be playing in Sandbox mode showing off some of our latest work including new parts, shutdown mode, secrets, and more! In the meantime, we want to know what you all want to see during the livestream – head over to the #Livestream-Suggestions channel in our Discord and let us know if you've got any requests! ⏯️
Participate in our Robot Build-Off Competition and win a free copy of RoboCo! Already dreaming about what kinds of bots you're going to build in RoboCo? Share a screenshot, GIF, or video clip of your most complex, funny, or outside-the-box robot built in-game on our Discord for the chance to win a free copy of RoboCo! Just head on over to the #Robot-Build-Off channel for more information…and at the end of the festival, our team will announce a winner from each category! 🏆
We're also celebrating the launch of our Steam Game Festival demo with a shiny new trailer…check it out:
As you likely noticed at the end of the trailer, RoboCo is now coming to Steam Early Access in 2021, rather than this year as previously announced. Please note, this delay affects only our Steam Early Access release timeline – we're still participating in this week's Steam Game Festival (woot!) and also plan on hosting our closed alpha later this year (double woot!) We realize this news will be a bummer to many of you, but please know that this extra time will allow us to better realize our vision for RoboCo. As a team, our #1 goal is for RoboCo to be the BEST robot building sandbox game on Steam – and we hope the final game is worth the wait!
And that's all, folks! Before we go, we wanted to extend a huge thank you to all of our fans, followers, and friends for your continued support of the game – without each and every one of you, we truly wouldn't be where we are with RoboCo today. So get out there, start building robots, and enjoy the free demo! 
---
Follow @RoboCoGame for more updates!
Wishlist RoboCo on Steam
Join the RoboCo Discord community
Follow RoboCo on Twitter and Facebook