Video game enthusiasts live in an exciting time where game development is becoming more approachable than ever before for people of all ages — games themselves have the capability to teach game development skills, such as programming and design (among other future-facing skills). Around the world, school initiatives are encouraging students to grapple with and pose solutions to real-life issues through video games (for example, climate change).
Throughout video game history, students have stood out when it comes to developing unique games and encouraging innovation in the industry. While developing educational games, students are finding new ways to refresh and reimagine various subjects and specialized skills, tell vital stories and histories, and embed learning into engaging gameplay. Check out the list below for examples of recent and upcoming student-created games!
via cbc.ca
Concordia University alum Maize Longboat recontextualizes a story of first contact in North America between Indigenous people and settlers by placing it in the future, rather than the past. In Terra Nova, a two-person platformer Longboat created for his master's thesis, one player plays as a character named Terra, an Elder Earthborn land keeper, and the other plays as Nova, a youthful Starborn inventor. After a spacecraft crash lands, their lives intertwine. The winner of the 2019 Best Emerging Digital or Interactive Work at the imagineNATIVE Film + Media Arts Festival, Terra Nova teaches Indigenous history through storytelling set in a distant future. Learn more about how this game was made here, and read an interview with the creator here.
via englishcomplit.unc.edu
In 2020, students in Professor Gabrielle Calvocoressi's Poetry Stylistics and Professor Courtney Rivard's Storytelling and Game Development courses could no longer meet together at the University of North Carolina Chapel Hill's Greenlaw Gameroom, so they took to combining poetry and game development remotely. One of the results of the parallel-taught classes is Underdepth, created by students Molly Hanna and Noah McFarlane. The game is centered around a character named Saddie, who is now living underground due to a climate crisis and is searching for a lost loved one. Featuring a branching storyline with choices and different endings, the game also incorporates elements of renga, a poetic form that necessitates collaboration.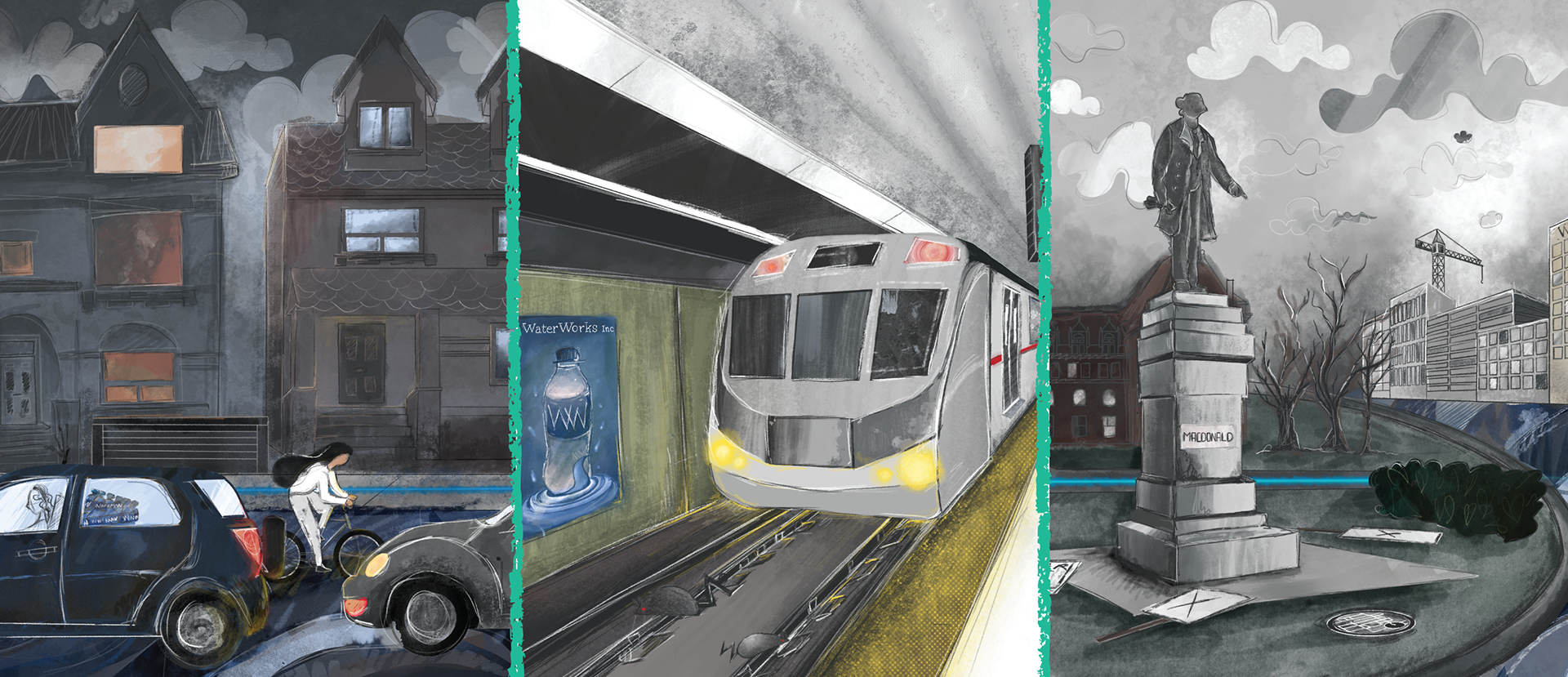 via toplay.ca
Created in 2020 and set to launch in 2022, TO Play is an adventure game about water privatization, urbanization, environmental racism, and Indigenous water and land values in Toronto, Canada. TO Play began as a thesis project at Ryerson University, where creative director and producer, Ria Kapoor, and lead game designer, Ryan Spooner, wanted to explore the possibilities of social and environmental advocacy through video games. In the game, players will explore Toronto, both above and below ground, and learn about Toronto's combined sewer system and its Lost Rivers. Watch the TO Play pitch here!
via wlrn.org
Though this is a game in its earliest stages, it's one to keep an eye on. Samya Zia recently won the 2021 NFTE National Investor Pitch Challenge after pitching her educational video game, Money Moves, this summer. The 19-year old Florida International University student plans to teach financial literacy and concepts such as investment, scholarships, loans, and more through gameplay. Watch Zia's full pitch to learn all about the upcoming game here.
via glifwc.itch.io
Set in Northern Wisconsin and designed by the University of Wisconsin-Stout student and 3D environment artist Eleanor Falck, Growing Up Ojibwe involves collecting firewood, spearfishing, harvesting manoomin, and learning from family and other community members along the way. The game is designed for use in middle school classrooms, containing teachings on Ojibwe treaty rights, tribal sovereignty, harvesting practices, language, and more. Play the game free on itch.io, and learn more about the development of the game here. 
Last year, four University of Texas – Austin students, Ashley Gelato, Michael Rader, Izellah Wang, and Alex Aragon, were given a challenge. History professor Adam Clulow wanted to know if it was possible for the group to create "a fully functional, historically accurate video game across the course of a single semester." From this experiment, Ako: A Test of Loyalty emerged. In this interactive novel with branching storylines, the main character Kanpei Hashimoto, a young samurai, navigates life before, during, and after the Akō incident. Since the creation of this game, Professor Clulow has written an essay about how the game and its student-creators changed the way he thinks about teaching history.
More on students and game development: