We made the game. We won the Webby. And now – we're in full celebration mode! 🎉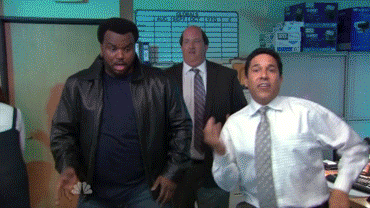 (Image credit: Giphy)
Wondering what's with all the hubbub? Breaking Boundaries in Science, our VR celebration of some of history's most renowned women in STEM, has won the coveted People's Voice Award for "Best Game: Education" at the 23rd annual Webby Awards!
A bit more info on the Webbys – honoring the best of the internet, the Webby Awards is an annual celebration of the year's best digital creations: podcasts, websites, games, and more! Winning a Webby is a huge deal – while we've previously been honored with nominations for our work on Smithsonian Science Education Center's Morphy! and Aquation, this year's award marks our first-ever victory (royale…ok just kidding. Fortnite did win one, though.) With our Webby now in-hand, we'd like to extend a special thanks to all the folks who voted for Breaking Boundaries and helped spread the word about our nomination – namely our friends at Oculus, the Jane Goodall Institute, NIU STEAM, and most importantly: you!
But that's not all! Each year, Webby winners are asked to share a 5-Word Acceptance Speech with the #Webbys community. Here's VP of Sales Jennifer Javornik alongside Facebook's Monica Arés – coming to you live from New York City – with ours:
What did you think of their message? Did you see any other inspiring 5-Word Speeches on the web today? Sound off on our Facebook or Twitter!
---
Learn more about Breaking Boundaries in Science:
🖥 Official website
🎮 Oculus store page
🎥 Launch trailer
🍎 Curriculum materials
☢ Keeping STEM Real in Virtual Reality – a thoughtful article from Filament's VP of Sales Jennifer Javornik