Feeling stressed or overwhelmed? You're not alone. According to research from the American Psychological Association, 78% of U.S. adults report that the ongoing COVID-19 pandemic remains a significant source of stress in their lives. Now more than ever, it's important that all of us take time out of our busy schedules to practice self-care – whether that's reading, exercising, sleeping, or even gaming!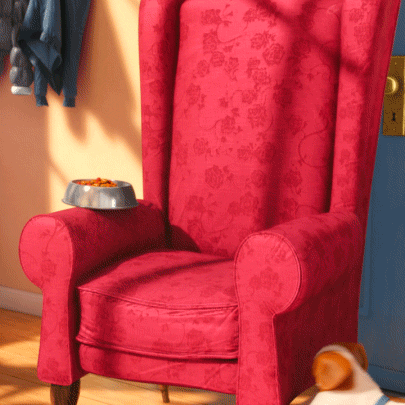 (Image source: Giphy)
Today marks National Stress Awareness Day, and we're celebrating the occasion with a roundup of some of our team's favorite relaxing games available across a variety of platforms – PC, console, mobile, and more. Check out our selections below, and be sure to let us know on our Facebook or Twitter what your go-to games for de-stressing are!
Journey
First released for the Playstation 3 all the way back in 2012, Journey has since been made more widely available on mobile and PC platforms – and for good reason. Winner of countless industry awards, thatgamecompany's Journey is a spectacular, awe-inspiring experience that's perfect for folks seeking a tranquil – yet engaging – break from the real world. It's challenging to describe the game without giving away key plot details – however, players can look forward to soaring above ancient ruins and gliding across sands to discover the secrets hidden within the game's expansive world.
Journey is available for purchase on iOS, as well as Steam (Windows), Playstation 3, and Playstation 4.
Stardew Valley
For many of us, video games offer an escape from the hustle and bustle of the real world, which makes Stardew Valley – a game about trading city life in favor of a fresh start on your grandfather's old farm plot – a fitting choice for those of us seeking a relaxing escape from real life! An acclaimed country-life RPG built from the ground up by solo developer ConcernedApe, Stardew Valley tasks players with turning overgrown fields into a thriving new home, becoming an active participant in the local community, and befriending a cast of wacky townsfolk along the way. 
Stardew Valley is available for purchase on iOS and Android, as well as Nintendo Switch, Xbox One, Playstation Vita, Playstation 4, and Windows/Mac/Linux via Steam, Humble Store, and GOG.
Diffission
Developed by our team here at Filament, Diffission is a calming game that tasks players with slicing and swiping their screen to solve procedurally-generated puzzles. As players manipulate swap and dissolve blocks and collect diamonds to unlock new trials, they deepen their understanding of fractions through intuitive gameplay that unfolds into an expansive strategic challenge – perfect for fans of puzzle games, learning games, and brainteasers.
Diffission is available as a free download on iOS and Android, alongside a web-based version for PC/Mac/Chromebook available for purchase from the Filament Learning store.
Gris
Winner of the Best Gameplay award at the 2019 Games for Change Festival – as well as the coveted Games for Impact award at the 2019 Game Awards – Gris is a breathtakingly beautiful platform-adventure game developed by Nomada Studio. A serene and evocative experience unlike any game before it, the game places players in the shoes of Gris – a hopeful young girl who must come face-to-face with a painful experience in her life. Through platforming, puzzle-solving, and in-game narrative, players help Gris find her way through a journey of sorrow and self-discovery – touching on themes of mental illness and depression along the way.
Gris is available for purchase on iOS and Android, as well as Steam (Windows), Nintendo Switch, and Playstation 4.
My Koi
As its name suggests, My Koi is a tranquil fish pond simulator – backed by rave reviews from fans all around the world. Developed by Sakana Studios, the game – or rather, the fish pond – offers a private underwater oasis escape, allowing users to acquire up to 54 unique fish across 3 ponds. Featuring a calming atmosphere, a soothing soundtrack of ambient nature sounds, and no in-game purchases or advertising, My Koi makes for a great environment to de-stress after a long day in the real world.
My Koi is available for purchase on iOS, as well as Steam (Windows) and the Mac App Store (Mac).
---
Explore even more ways video games can help make the world a better place:
How Educational Video Games Can Help Foster Social and Emotional Learning
Using Digital Games to Teach Real-World Issues
Video Games and Mental Health