As a leader in the educational games development space, our team has a particular affinity for all things AR/VR for education. For years, we've championed the value of virtual reality as a powerful tool for learning, developing high-quality immersive titles like Breaking Boundaries in Science and RoboCo while simultaneously publishing dozens of augmented and virtual reality-related articles on the Filament Games Blog. Suffice it to say, we're a bit obsessed – just like many of our educator fans and followers!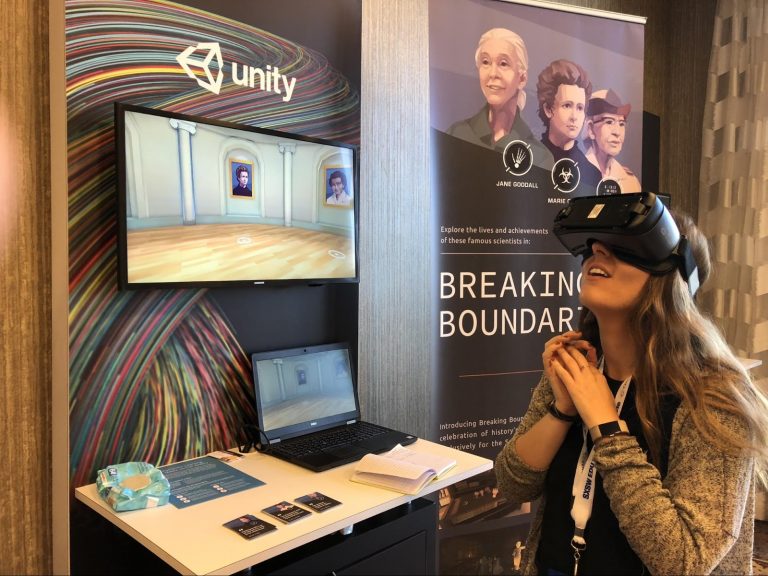 As much as we love occupying cutting-edge EdTech spaces like these, we must admit that it can be a bit lonely at times – a feeling that is likely shared by many of you AR/VR for learning pioneers out there in the field. But don't fret – we're here to help! For today's blog, our team has scoured the web in search of the internet's most active AR/VR for learning communities. No matter your preferred platform, you're sure to find like-minded, AR/VR-equipped educators in any of the below groups. Without further ado, let's kick things off with one of the web's most popular immersive learning communities…
#ARVRinEDU on Twitter
Immersive technology expert and former educator Jamie Donally is a pioneer in the AR/VR for education space, having published countless articles highlighting the benefits of augmented, virtual, and mixed reality for learning in publications like EdSurge, EdTech Magazine, and her own book Learning Transported. And even more impressive, Jamie is the driving force behind the popular #ARVRinEDU community on Twitter which hosts a weekly chat at 8:00PM CT. If you're one of the many teachers who already finds themselves networking and sharing ideas with fellow educators on Twitter, you'll definitely want to keep your eyes peeled for the #ARVRinEDU hashtag!
Virtual & Augmented Reality for Education on Facebook
Are you one of Facebook's 2.41 billion active monthly users? If so, I've got great news – you're merely a few clicks away from connecting with thousands of fellow AR/VR-enabled educators who comprise the active Virtual & Augmented Reality for Education group! And while Virtual & Augmented Reality for Education may be the largest, it's far from the only immersive education community on Facebook – be sure to check out similar groups like Oculus Education, VR in Education, and Virtual Reality, Augmented Reality and Education. Learning differently! for even more opportunities to connect with, learn from, and share resources with fellow educators.
Educators in VR Discord
Lastly, for those among us who have embraced voice and text chat app Discord, we'd like to shout out the Educators in VR community – a small yet dedicated group of roughly 300 educators, researchers, and trainers from around the globe. In addition to daily conversations on Discord, Educators in VR also holds a monthly meetup in AltspaceVR – a popular program that allows groups to convene in shared spaces using virtual reality. Educators are encouraged to visit the official Educators in VR website to learn more about the community and RSVP for their next VR meetup!
That just about wraps up today's list – we hope you'll find some of the above resources to be useful! What did you think of our suggestions? Are there other online AR/VR communities for educators worthy of a spot on our list? We want to hear from you – sound off on our Facebook, Twitter, or LinkedIn!
---
More AR/VR in education resources from your friends at Filament Games:
Augmented Reality in 2019
5 Essential Educational Games for Oculus Go
Virtual Reality for Sports Training