Have you heard? We're making a wholesome sandbox game about building robots. It's called RoboCo, and as of last Friday, it's also an official selection of Indie MEGABOOTH @ PAX West 2019!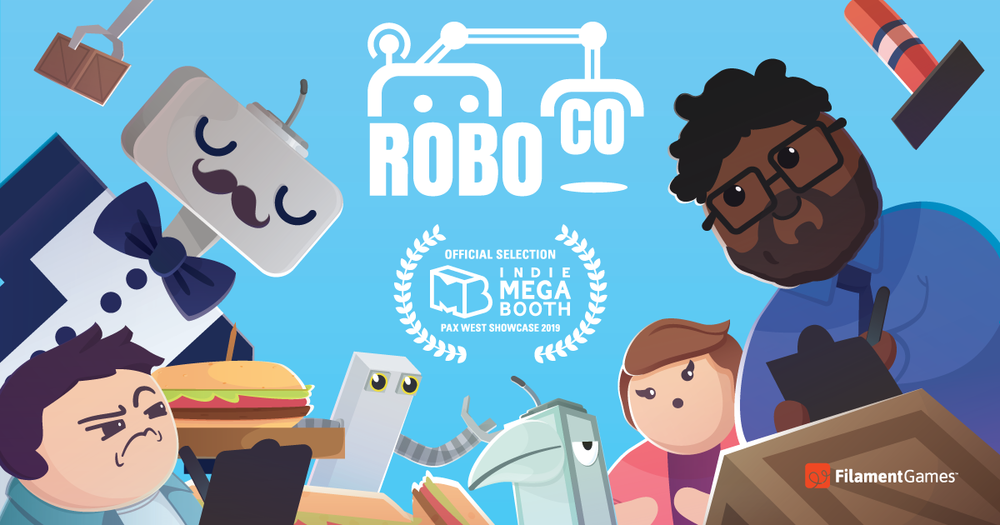 Before we go into more detail as to why this is so awesome, let's take a quick step back for a moment – after all, today marks the first time we're discussing the game in-depth here on the Filament Games Blog.
At its core, RoboCo is a wholesome sandbox game about designing and building robots to serve the needs of squishy, hapless humans in the world of tomorrow. We're designing the experience with both PC desktop and VR players in mind, you can wishlist the game on Steam today, and it works a little something like this:
Since first unveiling the game on our dev blog back in March 2019, we've received an outpouring of support from fans on Twitter, Reddit, and at in-person indie gaming events like The MIX Los Angeles. RoboCo is our studio's passion project, and the game simply wouldn't exist without the love we receive every day from our fans and followers like you. ❤️
The love for RoboCo doesn't stop there, though. As we alluded to a few moments ago, RoboCo was just unveiled as an official selection of Indie MEGABOOTH @ PAX West 2019 – a travelling showcase of some of the world's finest independent games. With past IMB alumni including indie hits like Papers, Please, The Stanley Parable, and The Banner Saga, it's easy to understand why we're so thrilled that the MEGABOOTH team deemed RoboCo worthy of their annual PAX West showcase!
Our team will be demoing RoboCo on the PAX West showfloor for the entirety of the four-day expo, beginning on Friday August 30th. If you find yourself in Seattle, WA and feel like stopping by the MEGABOOTH, we'd love to see you there! In the meantime, check out the links below for even more RoboCo content…
---
Learn more about RoboCo and follow our development progress:
⚙️ Wishlist RoboCo on Steam
⚙️ Check out the RoboCo Dev Blog
⚙️ Follow @RoboCoGame on Twitter
⚙️ Subscribe to the r/RoboCo Subreddit