Budgeting, managing debt, investing, and more – key financial literacy skills that just about every adult can benefit from, and yet one in five American 15-year-olds doesn't understand basic financial concepts, according to research from the National Center for Education Statistics. And while states are beginning to recognize the critical need for personal finance coursework in high school settings, the fact remains more than half of all U.S. states don't require this type of curriculum for graduation. Thankfully, there are many high-quality online resources for folks seeking to improve their financial literacy skill set – check out our below roundup of recommended games, and let us know on our Twitter or Facebook if you know of any other games that deserve a spot on our list!
Ready…set…hike! Presented by Practical Money Skills – a VISA-run site which aims to empower people to better manage their money and improve their quality of life via free financial literacy resources – Financial Football is an NFL-backed game that teaches key personal finance skills through a distinctly sportslike lens. Available to play on iOS and Android devices as well as the web, the game covers subjects like saving, spending, and budgeting, with content tailored towards three selectable age levels – Rookie (11-14), Pro (14-18) and Hall of Fame (18+). With free supplemental lesson plans and teacher guides available on the game's site, Financial Football makes for an excellent intro to basic financial literacy concepts for football fiends across the country.
Clash of…credit!? Not quite, but Next Gen Personal Finance's Credit Clash is totally deserving of a spot on today's list! A beautifully illustrated, web-based card game, Credit Clash focuses solely on teaching one financial literacy concept: credit scores. A 1:1 faceoff against an AI opponent, players must carefully balance long-term wealth building with short-term liquidity, seeking to raise their credit score to 850 while simultaneously paying bills, managing loans, and surviving various unexpected financial surprises. Perfect for both classroom and at-home learning – particularly when used alongside the game's free companion worksheet – Credit Clash is a fantastic, hands-on way to explore the intricacies of credit scores.
Created by Next Gen Personal Finance in collaboration with McKinney, STAX is an educator-vetted, classroom-ready financial literacy game that tasks players with making 20 years of investment decisions…in a 20-minute play session! Selecting their own portfolio among stocks, bonds and index funds, players learn to understand and navigate the world of investing – covering long-term horizon, index funds, asset allocation, and more. Accompanied by free supplemental teacher materials and reflection activities, STAX makes for a fun and engaging intro to the world of investing – and best of all, the game can be enjoyed both as a single-player experience as well as with a group!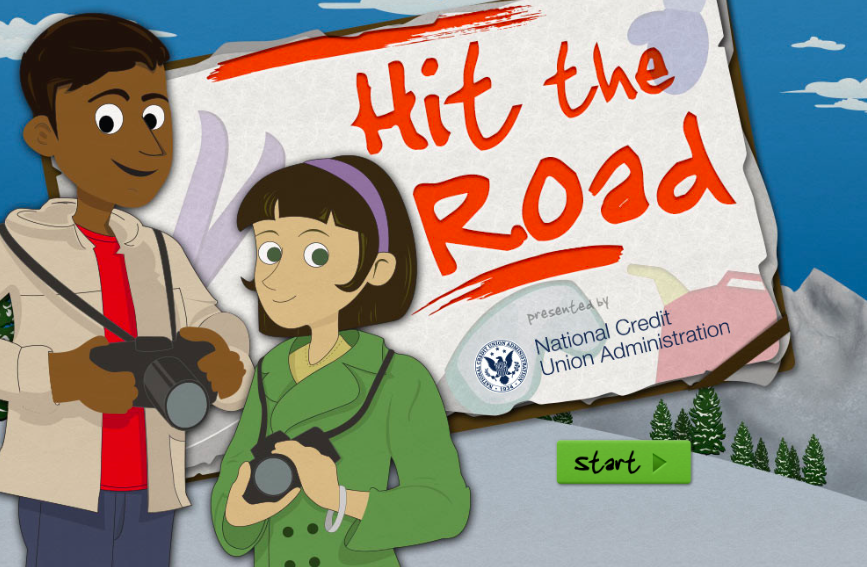 Did somebody say road trip!? In Hit the Road, players…well…hit the road, embarking on a cross-country journey of budgeting, responsible spending, and debt management! Created by the National Credit Union Administration, Hit the Road puts learners in the driver seat of a group of friends headed to Colorado for a ski trip. As the group travels between famous locales across the U.S., players must balance their trip budget – ensuring that everyone remains fed, the car doesn't run out of gas, and costly mishaps are avoided whenever possible. Perfect for a pick-up-and-play classroom session – or an engaging at-home lesson – Hit the Road is a great pick for folks seeking a game that teaches budgeting basics.
It's payback time…and by that, I mean it's time to talk about Payback – another awesome resource from Next Gen Personal Finance! Designed to teach high schoolers how to succeed in college without taking on too much college debt, the game tasks players with navigating hard-hitting debt management decisions while simultaneously maintaining their focus, connections, and happiness. Accompanied by supplemental reflection materials, Payback is a perfect starting place for students interested in gaining a deeper understanding of the many costs associated with attending higher education in the United States.
---
Still seeking more game suggestions? Check out these related articles!
10 Free Financial Literacy Games for High School Students (Edutopia)
Learn By Doing: Best Online Financial Literacy Games (NerdWallet)
Resources for Teaching Financial Literacy (National Education Association)