Filament Games stays connected to the scholarly side of game-based learning (GBL) through our GBL Luminaries Program. Academics in the Luminaries program work with our staff to maintain a healthy dialogue between game-based learning theory and practice through all-staff lectures and guest blog posts. Today's GBL Luminary guest post is from Matthew Berland, Professor in the Department of Curriculum and Instruction at the University of Wisconsin-Madison and Director of the undergraduate Game Design program and certificate. By working with students to design and develop museum exhibits, board games, cooperative games, and learning tools, he studies how people learn with, around, and about technology using design research, data mining/ai, and mixed methods studies.
---
As a professor, it's pretty common to get asked the question: What do you study? or What do you teach? If I say something like "how people learn with games," I am typically asked a bunch of follow-up questions that sort of suggest the same set of misunderstandings about what I do or what we do here. My suspicion is that many of the people reading this blog both have some of these misunderstandings and/or might be a good fit for going to grad school in games and education! I'm going to try to address a few of the more frequent questions, as they pertain to our program, called "Design, Informal, and Creative Education" (DICE) here in the UW–Madison School of Education. (I also run the undergraduate Game Design program and certificate, so some of this applies there as well!)
1. We are committed to making the world a better place through games and education. We are only successful if you are making a positive impact on the world, if you can look critically at games. The job in academia can often boil down to: What do we want to know that could help the world?
2. Most, if not all, of our current doctoral students get paid to work here. Grad school is not necessarily an expensive proposition. We have the excellent Graduate Worker Union, and work-life balance is taken quite seriously in the UW–Madison School of Education.
3. Our graduate students get jobs in the games industry, in academia, in the tech industry, with non-profits, and in schools. To date, we have a full employment rate for graduates of the program – at many top universities, excellent colleges, and companies like Unity, Amazon, Google, and even Filament itself (the CEO, no less).
4. The games themselves are fun. We play and make a lot of games. The DICE program is the home for the Game Design Certificate at UW–Madison (in concert with the Art Dept. and the Computer Sciences Dept.). We have multiple classes in which you design and create board games, digital games, and tabletop role-playing games. Many of them are released publicly! Many of them are published!

Image source: UW Game Lab
5. We do serious research that other people use. The department has been ranked #1 in the nation for educational research 17 out of the last 20 years running by US News and World Report. The knowledge you build will help people; this is not the kind of field where you just "throw journal articles over a wall."
6. We study how learning and education work. You learn something everyday (and every time you play!) – maybe it's something deep, maybe it's important, maybe not – but the world has a LOT to learn about how learning works. Games are a great way to learn about learning.
7. UW, as an institution, is remarkably interdisciplinary. Every single doctoral student has to work interdisciplinarily; every faculty member in DICE is cross-appointed. UW provides access to a brilliant, diverse, interesting faculty spanning pretty much every academic field.
8. Our grad students are wonderful and kind! Look them up, email them directly!
9. In our program, advising is taken seriously and thoughtfully – we do not have a "pre-set curriculum" – we work with every student as an individual to build a set of classes and projects that match their passions. We've had people that take classes in Computer Science, Gender & Women's Studies, Textiles, Industrial Engineering, History, African Cultural Studies, and people have done game-based projects across that range.
10. Madison is an incredible place to live and work! We were named the best Madison in Wisconsin 3 of the last 14 years!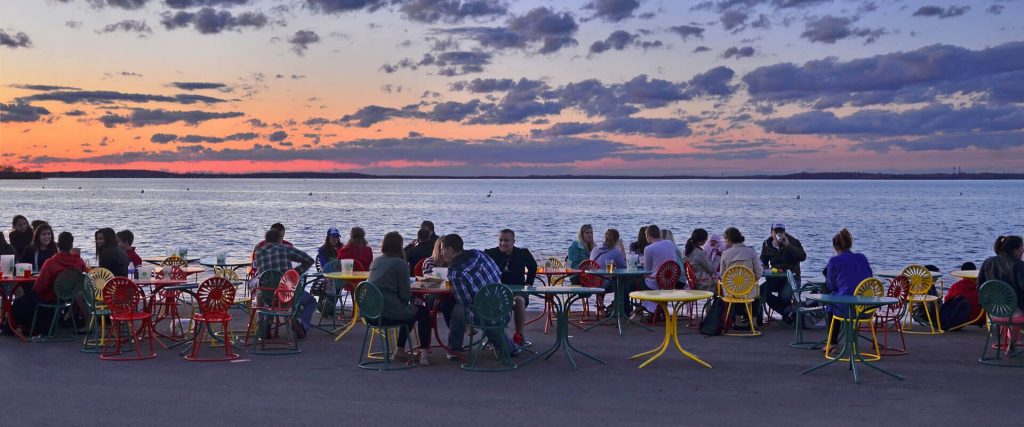 Image credit: Clean Lakes Alliance
I hope you'll consider at least looking us up!
For more information: https://games.education.wisc.edu/