Currently, the video games industry is booming – driven largely by increased social distancing measures along with the launch of next generation gaming consoles. And alongside this growth of commercial games, the use of digital games and virtual reality as a tool to support health outcomes is similarly becoming increasingly en vogue, likely the result of hundreds of millions of dollars in investments in organizations such as MindMaze, Akili Interactive, and others.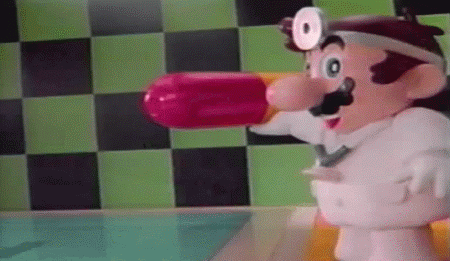 (Image source: Supper Mario Broth)
Today, we're not discussing the likes of Dr. Mario or Dr. Wily – instead, we're examining the fascinating (and rapidly growing!) intersection of video games and digital medicine. Let's take a closer look:
Gamifying health and wellness
Applying elements of games – such as challenges, point scoring, and achievements – to non-game contexts is hardly a new concept. However, research suggests that gamification techniques have huge potential to influence health outcomes. 
An example of this phenomenon at play is mySugr – a mobile app that allows users to monitor and manage their diabetes using their smart device. Alongside key features like blood sugar and food tracking, the app uses challenges, points scoring, and personalized insights to incentivize patients to keep their glucose level in check.
And mySugr is hardly the only example of gamification at play – more than 30 million people actively use Fitbit devices, which leverage gamification techniques to help users achieve their health and fitness goals. Even popular fitness games like RingFit Adventure and Zombies, Run! harness gamification techniques to help players stay motivated and engaged in healthy habits.
Video games as prescriptions
In June 2020, the FDA approved EndeavorRX, the first video game to be legally marketed and prescribed as a medicine in United States history. Developed by Akili Interactive and backed by more than 7 years of clinical trials, EndeavorRX is a prescription treatment for children with attention deficit hyperactivity disorder (ADHD). 
Detailed on their website, EndeavorRX is designed to improve attention function as measured by computer-based testing in children ages 8-12 years old with primarily inattentive or combined-type ADHD, who have a demonstrated attention issue. As players navigate their character through 3D environments, they're required to multitask – collecting targets and avoiding obstacles – while the game uses sensory stimuli and simultaneous motor challenges to target areas of the brain that play a key role in attention function. 
Research shows that health based games have significant potential as therapeutic interventions, and though EndeavorRX remains the only FDA-cleared video game treatment delivered to date, it's likely we'll continue to see an expanded array of offerings in the coming years. 
Virtual reality treatments
Similarly, researchers like Albert 'Skip' Rizzo, PhD – Director for Medical Virtual Reality at USC's Institute for Creative Technologies – are proving that virtual reality therapy techniques can help patients with physical and psychological disabilities.
In an interview with the APA's Speaking of Psychology podcast, Dr. Rizzo details his experiences using virtual reality exposure therapy to treat patients, explaining, "When you have a disorder where avoidance is one of the cardinal symptoms, sometimes patients may need a little extra boost. So, if we can put them in simulations that mimic or resemble some of their traumatic experiences and do it in a gradual, yet progressive hierarchical fashion, then it really is well-matched to what the need of the clinical approach is." 
Noting that exposure therapy is far from the only clinical setting that's well-suited for virtual reality, Dr. Rizzo also discusses application of immersive technologies for pain management and cognitive performance assessment – indicating that VR is a particularly useful tool for helping reduce stigma of mental health treatment, particularly among younger patients.
---
Ready to learn more about the intersection of digital games and healthcare? Check out these related articles:
Video Games and Mental Health
Filament Games and Healthcare
How VR Changes Learning