Summer 2020 has arrived…and heightened social protection measures continue to remain in place here in Wisconsin. And while all of us at Filament are happy to self-quarantine for as long as it takes to keep ourselves and others safe, many of us have shared similar experiences of facing challenges finding the necessary space (and motivation) for at-home workouts.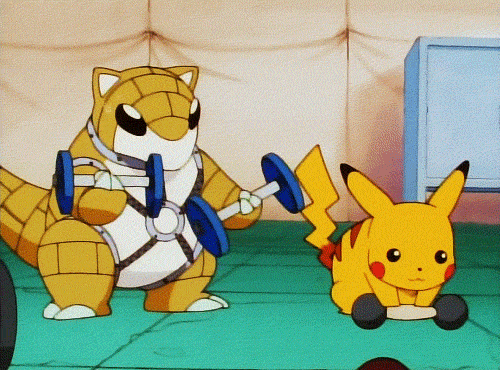 (Image credit: WiffleGif)
Thankfully, now more than ever there are a slew of active, exercise-focused video games available across nearly all platforms – consoles, mobile, VR, and more! And whether you're a seasoned exercise aficionado or totally new to the fitness world, there's likely to be a game that's perfect for your individual needs. Check out our roundup of suggestions below, and let us know on our Facebook or Twitter if we missed any of your favorite titles. 
Ring Fit Adventure
A spiritual successor to their wildly popular Wii Fit series, Nintendo's Ring Fit Adventure is a unique "exercise RPG" that's available exclusively for the Nintendo Switch. For those of us who are new to the genre, the concept is simple: traverse breathtaking 3D worlds and defeat enemies using real-life exercise! Using the included Ring-Con and Leg Strap accessories, players jog, sprint, and high knee through more than 100 levels, leveling up and customizing their character along the way. A quick disclaimer – Ring Fit Adventure is not available for digital purchase (as the game requires the use of physical add-ons), and ongoing supply issues have caused its price among third-party sellers to increase far above its original $79.99 MSRP. If you're able to find a copy for its list price, we'd highly recommend picking up Ring Fit Adventure – however we would strongly advise against paying above MSRP as the game will inevitably receive a restock at a later date.
Ring Fit Adventure is available for Nintendo Switch devices.
Just Dance 2020
Does the thought of dancing along to hit songs from artists like Ariana Grande, Ed Sheeran, and Justin Bieber sound less like working out, and more like having a blast? If so, we can wholeheartedly recommend Just Dance 2020 – the latest iteration of Ubisoft's hit dance party game. Available across nearly all console platforms, Just Dance 2020 features 40+ songs, customizable playlists, and local multiplayer – and that's not even counting the 500+ songs available via the Just Dance Unlimited subscription add-on. And for folks seeking even more dance fitness fun, be sure to check out the Dance Central series for Xbox One and Oculus VR platforms – though we're partial towards the Just Dance series due to its accessibility across so many gaming platforms!
Just Dance 2020 is available for Nintendo Wii, Switch, Playstation 4, Xbox One, and Stadia devices.
Beat Saber
If you've ever spent more than a few minutes playing a virtual reality game, you've likely realized that moving your arms and body around in lieu of a controller or touchscreen can be quite the workout! Which makes games like Beat Saber – a VR rhythm game that's perhaps best described as Guitar Hero meets lightsaber combat – the perfect match for folks seeking an intense gaming workout experience from the comfort of their own living room. According to VRScout, one man claims to have lost more than 100 pounds using a Beat Saber-focused workout routine – and while we can't promise these kinds of results for everyone, we can safely say that most will have no trouble breaking a sweat after an hour in VR playing Beat Saber, SUPERHOT VR, or another of the many excellent VR titles.
Beat Saber is available for Playstation VR, Oculus Quest, and PC VR devices.
Pokémon Go
Across the globe, summer 2016 was defined by the release of Pokémon Go – an augmented reality mobile game created by Niantic which quickly skyrocketed to become the biggest mobile game in U.S. history. Years later, the game continues to break records, encouraging millions of players around the globe to "Go" outside and collect 'em all! Of course, playing Pokémon Go is an inherently social experience – which means that players practicing social distancing won't be able to experience the full potential of the game anytime soon. However, when played solo using proper precautions, the game remains a fantastic tool to help encourage players to get outside and get moving each day.
Pokémon Go is free for iOS and Android devices, with additional in-app purchases available. 
Zombies, Run!
Closing out today's list is another innovative mobile game, this time with a chilling twist. Zombies, Run! is a unique fitness/storytelling/gaming hybrid, placing players in the role of a "Runner" during a zombie apocalypse who must deliver supplies to a remote outpost. As players travel by foot through the real world, mission briefs and story snippets are shared through the Zombies, Run! app. As players outrun zombie hordes and complete more than 200 available missions, the stories and motivations of the world around them are unraveled – and before they even realize it, they've gotten their daily workout. 
Zombies, Run! is free for iOS and Android devices, with additional in-app purchases available. 
---
More learning game roundups from your friends at Filament:
5 Excellent Educational Games for the Nintendo Switch (+ 5 more!)
5 Awesome Environmental Science Learning Games
5 Must-Play Math Learning Games for Middle Schoolers