Librarians, makerspace facilitators, and LMC staff – today's blog is dedicated to you! 📚✨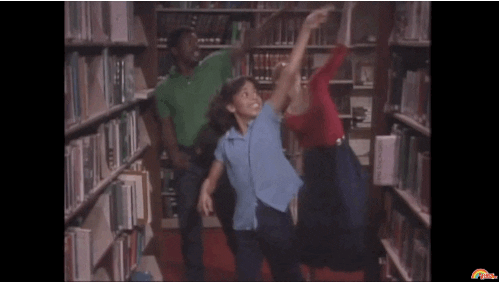 (Image source: Giphy)
As longtime readers of our blog are well aware, our team is obsessed with all things educational gaming. Over the years we've written countless articles highlighting the value of game-based learning in K12 classroom, higher education, and training settings. But today, we're switching our focus to another hugely important place where learning games can thrive: LMCs!
We'll kick off with three big reasons why you should consider incorporating games into your LMC or makerspace program, then share a few free resources to help you get started on your game-based learning journey. Ready? Let's jump right in!
Improved Engagement
Research from the NPD Group shows that 91% of American children between the ages of 2 and 17 play video games. No matter their age, background, or identities, it's clear that kids love gaming – which makes the medium a wonderful tool for engaging students in classroom and LMC settings! High-quality learning games are a uniquely engaging way to help students learn, practice, and master virtually any subject that exists, resulting in lasting learning experiences that stick with them far after turning the game off. And in our experience, games can be a particularly great way to connect with struggling students – for more on that, you can read all about our experiences working with students and educators at the Sun Prairie Area School District. For suggestions of what games to start with, check out our Filament Learning library and list of free-to-play learning games!
Personalized Learning
There exists a near endless number of ways that game-based learning can benefit students – from helping develop key social and emotional skills, to fostering key 21st century learning outcomes, and even helping strengthen relationships among friends and family. But another key advantage of educational gaming is that each student's experience is personalized – that is, students are free to try, fail, and learn at their own pace, free of distractions and time constraints which are typically present in structured classroom environments. Students can explore all sorts of subjects, engaging deeply with topics that they find to be fascinating in a meaningful, interactive way. And best of all? Once students conclude their gameplay, they're surrounded by all of your library's many resources which can be used to further extend their learning.
Equal Access
An estimated 15% of U.S. households with school-aged children lack access to a high-speed broadband connection, according to Pew Research Center. This phenomenon – dubbed "the digital divide" by researchers – means that school LMCs play a critical role in providing low-income students with access to high-quality digital learning resources that students need to succeed in our increasingly technological world. As we discussed previously, game-based learning is a proven method of engaging with students – particularly those who struggle with traditional classroom teaching methods. School LMC settings are uniquely positioned to offer innovative, 21st century tools like learning games to all students – and we highly encourage you to act on this by offering educational games as an option for students (in addition to traditional books, magazines, and videos, of course)!
---
Check out these resources for more game-based learning insights:
10 Free Game-Based Learning Resources for Educators
How to Teach with Games eBook
Planet Mechanic Classroom Study